Straight Jacket by Matthew Todd, who edited Attitude, the UK's best selling magazine, for many years and is the writer of the play Blowing Whistles, was released in June of this year. It is published by Bantam Press. I read the book during the summer and was seriously impressed. Straight Jacket is part memoir and part polemic. It is an incredibly well-researched book which looks at why many in the gay community often struggle with  mental illness, addictions and have a higher propensity to attempt or commit suicide. Todd's approach is evidence-based and he uses statistics from a wide range of sources and in-depth interviews to support his argument. He is also brave enough to share a very honest and personal account of growing up gay which, for him, was accompanied with high levels of anxiety, low-self esteem and problematic alcohol use.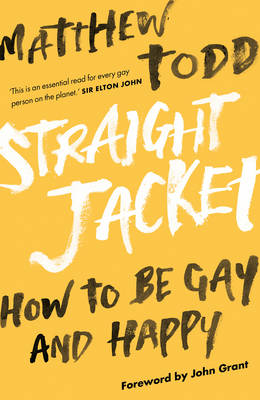 Straight Jacket is similar in scope to The Velvet Rage written by psychotherapist Alan Downs. Concepts such as 'toxic shame', cultural and internalised homophobia, and the path to a more authentic and happy self, are all dealt with here. But Straight Jacket, published only ten years later, goes even further in exploring and addressing some of the issues that concern the gay community today. Chem-sex addiction is one such issue. It has already been dealt with in hard-hitting documentary films such as Chemsex, various magazine articles, both in the mainstream media and gay press, and plays such as Five Guys Chilling. (Indeed I saw Chemsex  at the ICA when it first opened. The Q&A session was chaired by Matthew Todd.)  The issue is approached in Straight Jacket, as are many of the other issues, in a comprehensive and succinct way. Doctors, health care professionals and key figures in the gay community, including David Stuart, who runs 56 Dean Street sexual-health clinic in Soho, are interviewed and quoted. Unfortunately for the men involved,  tragic stories concerning personal use of crystal meth, GHB and methadrone in a sexual context are also to be found in this part of the book.
The devastating consequences of  growing up gay in a culture which is both covertly and overtly homophobic are laid bare in Straight Jacket. Alcohol and drug abuse, body image issues, homophobic bullying, hypersexuality or 'sexual anorexia', rising HIV infection rates, higher suicide and attempted suicide rates, compared with the general population, are all examined with intellectual rigor  and compassion. I was particularly interested in how Todd would cover the issue of homophobic bullying in schools, having been a school teacher myself. The relevant chapter includes the story of Anthony whose body was found two months after he hanged himself. Anthony was the victim of homophobic bullying at school and via social media.
 Personally, I am aware that some schools are beginning to tackle the problem but not nearly enough is being done. 'Gay' is still often used as a term of abuse in the playground and teachers who attempt to address homophobia in schools are not always given a smooth ride. When I introduced the book Jenny Lives with Martin and Eric in a school in the London borough of Tower Hamlets in an effort to confront the use of homophobic language, I was accused by the deputy head of pushing the gay rights agenda.
One of the strengths of Straight Jacket is that it will also appeal to adolescents and young adults who identify as LGBTQ. Key concepts are explained clearly and succinctly and historical overviews are often given. And despite the often traumatic territory Straight Jacket covers, there is also much hope. And it is hope that is grounded in practical advice on how to move towards a greater sense of authentic self-hood. My one criticism of this latter part of the book would be that an abstinence-based approach to addiction is perhaps recommended to the detriment of other approaches.  Although I do understand where Todd is coming from. Alcohol Anonymous (A.A), Narcotics Anonymous (N.A) and Crystal Meth Anonymous (CMA) are all programmes that are free, inclusive and, for those who stick to the programme, often highly successful.
Straight Jacket is an incredibly important contribution to the discourse on homophobia and the mental, emotional and physical well-being of members of the LGBT community. It is a book which is written with honesty and love. I would recommend this book to anyone, regardless of sexual orientation or gender identity, who may be affected in some way, or know someone who may be affected by some of the issues dealt with. Straight Jacket is a wake-up call to the gay community and a rallying cry for us all.
Matthew Todd will be reading at Paul Burston's literary salon Polari on 25th November.